Well here we go again ! Recently got my nuclear bone scan results and I am starting to look more like a human pin cushion !! However, got to keep positive and keep the pecker up :-)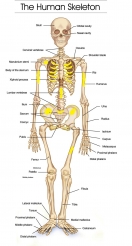 Since my last scan, the bone metastases have significantly progressed in the ribs, spine, right shoulder, both humeri, illiac bones, sternum, and the mid left femur. I have a CT scan scheduled for 6th July to determine if is has started to spread into any of my vital organs.
As yet, still no severe pain although a lot of stiffness and discomfort.
Lack of sleep my biggest problem and still unable to do anything remotely physical without suffering the consequences ( sorry Marydoll ) !
The Enzalutamide was making little difference to my PSA Blood results, so on my last recent visit to my Oncologist, with this and the above metastatic spread, she has started me on Arbiraterone acetate and steriods ( to help negate any potential side effects ! ).
A bit of a pain, because I now need to get my bloods taken every 2 weeks and also have oncology appoinments every 2 weeks, at least for the first 3 months on the new treatment to monitor progress and side effects.
However, there have been many positive stories with this new drug and hopefully it will slow things down a bit and give me more time to spend the kids inheritance :>)
Current medication and supplements :
Zytiga ( abiraterone acetate )
Prednisolone Steroids
Rosuvastatin
Beta Blocker
Ace Inhibitor
Aspirin
Painkillers ( still just as co-codamol level )
Vitamin D3
Turmeric Curcumin
Pomegranite
Vitamin C
Apple Cider Vinegar
Green Tea
Garlic
Super Booster Smoothies
On the brighter side.....
Team Garven donations for the Glasgow march for men in aid of Prostate Cancer has reached an incredible £2,370. I am totally humbled by everyone's support and donations.
A special mention to Ian Cowan, Jonny Garven and pals who organised a charity golf day on the Isle of Arran and apart from raising a tidy sum for Prostate Cancer research, also managed to get totally wellied and have a great social day out on the island, cheers boys.
Again a huge thanks to everyone.
www.justgiving.com/grahamegarven
So onwards and upwards and hopefully some more posive news in the blogs to come.
Take care and keep well