Hi all,
I have now completed cycle 4 ( of 10 ) of my chemotherapy and clinical trial ( Procaid AZD5363 ) medication, so thought it was time to share a quick update.
There is no doubt about it, Chemotherary treatment is tough ! It takes the wind right out your sails and feels like a terrible hangover ( x 10 ) !
My worst period is from day 3 to day 6 or 7 after treatment, where I have been totally wiped out, exhausted, feeling really 'yucky' and have a horrible metallic taste in my mouth and nearly all food / drink tastes the same !
The good news is that from day 8 onwards, things start to improve quite quickly and near normality returns. I have been plotting trends for each 21 day cycle so far and included it in the graph below. ( the totals are built from daily scores for pain, sleep, stiffness and general feeling where 20 would be the max score ).
I lost a lot of my hair after the first cycle, but this has slowed down and I still have more hair than most of my old baldy mates :>). Pain control and sleep have been good.
So far, I feel quite lucky that I have generally tolerated the treatment very well, compared to many other men I have talked to. There is also the Procaid trial, a 50% chance that I am on an active drug rather than placebo. This may be helping a bit ?
My Consultant Oncologist informed me that a lot less than 50% of men manage to complete the 10 chemo sessions due to the severe side effects, so this has given me the challenge to complete all 10 and get the averages up a bit :>)

I have also included a picture of the last nuclear bone scans I had taken.
The 2 images on the left ( slightly different angles ) were before I started the Radium 223 treatment and the 2 images on the right after the Radium was finished and just before the chemo started.
You can see how aggressively the disease has progressed, the worst of it in the lower spine and pelvis and even in the face !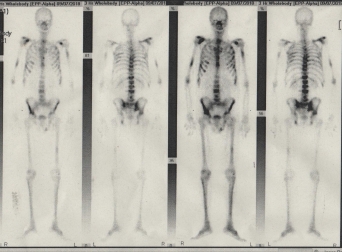 Now for the good news. My PSA blood count has dropped significantly since I started the chemo ( and trial ? ) , so it is doing 'what it says on the tin'.
I have included a PSA trend graph below which includes the treatment I was having when my PSA bloods were taken. Most of the drugs did nothing or very little, but you can see a huge jump during my Radium 223 treatment followed by the very promising downward trend on the chemo. If I can get this count down to double digits, it would be amazing.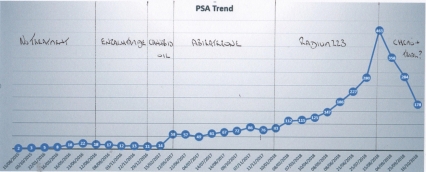 In the last few weeks, we have managed a trip down to London to catch up with family and some good old BofA friends. We also managed a week in Tenerife to enjoy the Autumn sunshine and just do nothing for a week with our good friends Tommy and Julie :>)
All my 'wee people' continue to keep me busy and put a big smile on my face, wouldn't swap it for the world ! And Marydoll ( should be Saint Marydoll ) for being the best and most caring wee wifey in the world ( Love you millions ).
As always, a huge thanks for all your good wishes and support which is so valued and appreciated and remember guys, any changes in toilet frequency and/or sexual changes, please please get it checked out. It is free and painless ! ( Wives, partners...do your bit )
Let the battle continue, bring it on :>).