Hi amazing famiy, friends and followers,
A fair bit to update you on since my last update.
After much deliberation and discussion with family, I decided to complete the scheduled 10 sessions of chemo. It appeared to be 'doing something good' as my PSA blood results continued on a downward trend. I would be telling lies if I said it was easy, it certainly was not. The cumulative effects of the chemo were totally draining and many of the side effects worsened after every cycle. The fatigue was the worst, it was an effort doing even the most simple and mundane of tasks. My appetite was poor, I had a horrible metal taste in my mouth, my nails started to fall out, my feet were constantly numb and I was looking very baldy ( like most of my mates :>)
But with loads of rest and amazing support from Marydoll and the rest of the family, it certainly loosened the load.

Unfortunately, and as per the trend graph above, my PSA has ( not unexpectedly ) started to rise again, albeit not too rapidly as yet. My PSA is now at 80.2 and because it had risen above the upper threshold of 65 for the Procaid ( AZD 5363 ) clinical trial I was on, I was taken off the trial. More about future trials later in the post.
During this period, I didn't just sit on my butt all of the time ! We still managed a number of visits over to our static caravan in Arran, got out for a few nights with my mates, met up with my prostate cancer buddy Jim in Glasgow, meals with family and a fantastic corporate day at Ibrox with Marydoll, Jonny and wee Jamie, courtesy of the Rangers Charity Trust. This was an amazing day where they fed and watered us, watched a game from the comfort of a suite and got to meet some of the players ( old and new ) and was topped off by a visit up the marble staircase to the blue trophy room ( unfortunately most of the trophies have just been gathering dust over the last few years :>(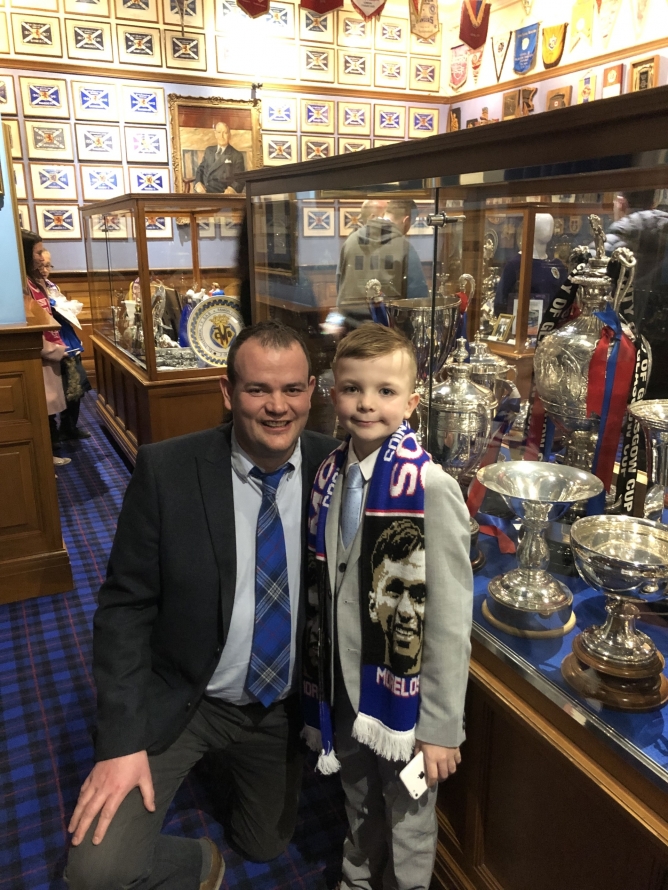 Wee Jamie had ( in his own words ) his best day ever and he got his photos taken with Ryan Kent, Borna Barisic, Andy Halliday, Wes Fotheringham and Nacho Novo.
Wee Jamie looks like a 'mini me' with his smart suit on ♥
Great times, but unfortunately I had a bit of a set back a couple of weeks ago !
I had an acute numbing pain in my left leg and after trying to ignore it for 24 hours,
finally agreed for Marydoll to take me to hospital after it got a lot worse and wouldn't
support my large ( ish ) frame !
So into the combined assessment unit at Crosshouse hospital where very quickly they sent me for an xray and MRI scan of the spine. Good news was that it wasn't spinal cord compression !
I got moved up to the general oncology ward where I had to bed rest until I could get a further MRI scan on my left femur.
However, I did manage to escape for a night, where one of the nurses, in conjuction with the duty doctor, organised a pass for me to go along to my Sister Fiona's house where the family had organised a surprise birthday party. This was on the proviso that I used a wheelchair while I was out ( huge thanks Moira for the loan of your Dad's chair ).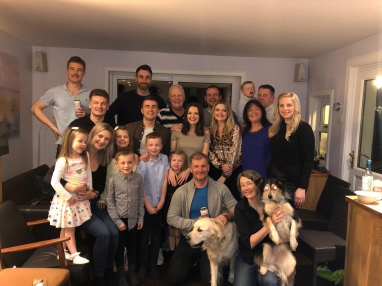 I finally got the 2nd MRI scan on my 8th day in hospital. By this time I was getting a bit stir crazy and discussed setting up an escape commitee with some of my chums in the ward.
It was like something out of 'One Flew Over the Cuckoo's Nest' :>)
I met some lovely folks in the hospital, including a sailor, farmer and a main stream rock star from the 80's. ( Stevie Cusack from Sniffing the Pink....check out some of their stuff on iTunes, definately worth a listen ). Hope you are getting much stronger now Stevie.
The nurses were amazing, great fun, so supportive and nothing was ever too much bother.
I don't know how these guys can do this every day and still keep so positive with a smile on their face. They literally are 'Angels'.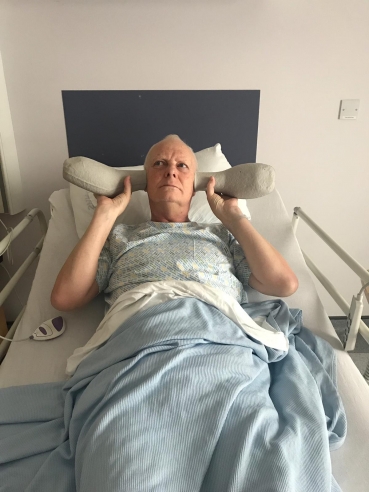 The 2nd MRI scan picked up more cancer tumour deposits in my left femur causing nerve pain. This, believe it or not, was good news as a fracture was suspected. ie, tumour growing in the bone and splitting it....ouch ! So no procedures required for now as the pain is totally under control. Must have been lots of bed rest, pain killers and pampering :>)
As I mentioned in a previous post, I have now exhausted all the 'standard' NHS treatments
so trying to get onto more clinical trials is the path forward.
I am currently been considered for 2 trials :
1. Immunotherapy where previous biopsies I had taken are being analysed to determine if I am a match ( approx 30% chance )
2. PSMA Luticimide where I have around an 80% chance of being a fit then a 66% chance of getting the cocher treatment ( as opposed to placebo )
Hopefully I will find out more in the next few weeks.
Well this has been a bit of a rant this time, but need to mention a couple more things before I close out this post.
My daughter Cara is running the London Marathon in aid of MacMillan Cancer Care.
She has never even run for a bus before, so this should be interesting :>)
Cara is nearing her donation target, so if you can afford a few bob to help her get over the line, it would be most appreciated.
https://uk.virginmoneygiving.com/fundraiser-display/showROFundraiserPage?pageId=1011110
And I can't close without mentioning again the amazing love and support I have received
during this rather arduous journey. Especially for my 'wee rock' Marydoll who should have been a juggler in the circus !
Along with looking after 'yours truly' and working, she has also found the time and energy to complete her training for the Scottish Children's Panel. This is for volunteers in Scotland who support vulnerable children and young people and their families in their local communities. Well done Marydoll and to my son-in-law Jamie who has also just completed his training.
Only 3 weeks now until our family adventure to EuroDisney. I can't wait to see their beautiful wee faces light up with excitement :>)
Well thats all for now folks. Keep well and happy xxx