Hi amazing family, friends and followers,
A lot to update you on this time, both positive and negative, so here we go !
Unfortunatley, starting with a negative !!
A few days after coming out of a 9 day stay in the Crosshouse Hilton, I was feeling really rough and looking like I had been dragged through a hedge backwards, so Marydoll kicked into gear and phoned the cancer helpline for advice. They advised I go straight back to the Combined Assessment unit in Crosshouse hospital where they re-admitted me. After blood and urine tests came back the following day showing I was in kidney failure, I was urgently transferred to Ayr hospital for a bi-lateral Nephrostomy procedure.
This was done under a local anasthetic and was very uncomfortable, to say the least. Apparently, this 'permanent' procedure was required as my prostate had enlarged so much with the cancer that my ureters ( tubes from kidneys to bladder ) were blocked.
I spent the next few days recovering in the ward before getting home with my nice new and shiny Nephrostomy bags and all the associated external pipework.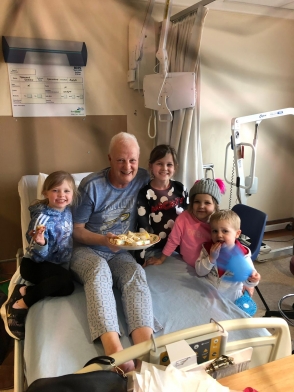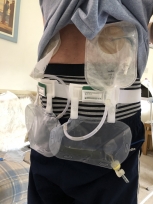 This is one of the solutions I have been using, the other is even more cumbersome.
Sleeping is proving very difficult as I need to sleep on my back ( previously only when I had too many sherberts ! ) and I get tangled up with all the pipes and gubbings, but I am sure I will get more used to it as the time goes on.
And it gets worse, a couple of days later I was in extreme pain and Marydoll had to rush me back up to hospital. I had picked up a kidney infection ( was like a knife twisting in my back ) and had another short weekend break in Ayr hospital hooked up to intravenous antibiotic drips ! When I got home, one of the bags burst at 04:00 am and we had early morning coffees with the oncall district nurses to change the bags ! You couldnae write the script !
It gets better.....promise :>)
A few days later we headed off down to London to support Cara in the London marathon.
Unfortunately, I couldn't make it down on the Friday night before to meet up with my old BofA buddies for a catch-up ( apologies for cancelling at short notice Bob, John, Steve and gang ) but will make every effort to get down for the next reunion 'piss-up' in the summer.
Cara was a wee superstar, she finished the marathon in just over 5 hours despite pulling her hamstring around the 12 mile mark. Cara and her friend Erin managed to raise over £5K for Macmillan Cancer support. An outstanding achievement from them both and a very proud Dada and Mops to boot. A huge thanks again to everybody for their very generous donations.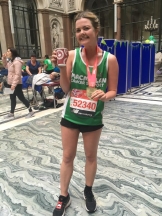 Then is was off to Eurodisney with Cara, Jamie, Katie and Marydoll on the Eurostar, where we later met the rest of the Garven clan at the hotel in Disney ( 15 of us in total :>).
The 'Vienna Magic Circus' hotel was perfect for our 3 night stay and all the wee ones had a ball moving from room to room for wee parties and sleepovers.
I must share a hilarious moment from our youngest grandchild Jake.
He was tucked up in his circus tent bed with his own wee telly watching Penguins from Madagascar ( in French :>) when I was sorting out my plumbing to go to bed.
He came across and sat on the end of the bed and said, "are you having a pee in your bags Grampa", followed by "I pee from my willie, I have a wee willie, do you have a wee willie Grampa". I said yes. He then said "my daddy has a big willie", then paused for a few seconds and said "so has my mummy". I nearly fell off the bed laughing :>)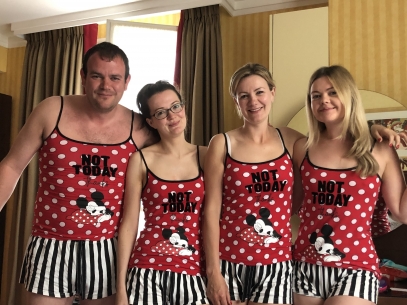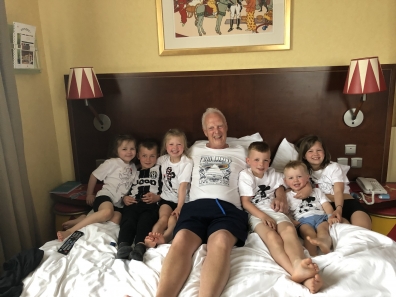 'Girls' looking good in their designer nightwear :>)
There was 7 in the bed and the little one said, "roll over"
We all had an amazing 2 days in the 2 Disney parks, the weather was superb and my 'disability' proved beneficial as I got a special pass for the rides and was allowed to go to the front on the queues with 4 helpers. This helped us go on nearly all the rides ( some more than once ). Felt a bit guilty, but hey ho !
The only downer at Disney was that wee Josh picked up a tummy bug and was very sick and had the runs, but he picked up a good bit on the 2nd day and was able to go on most of the rides.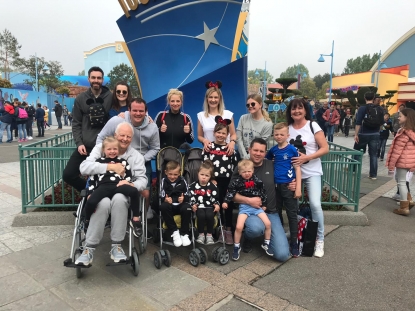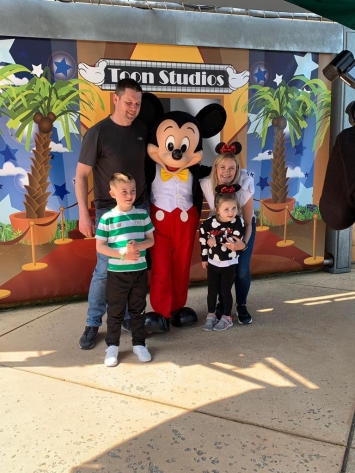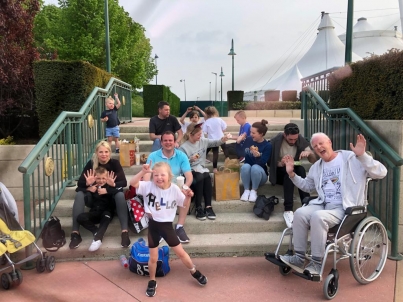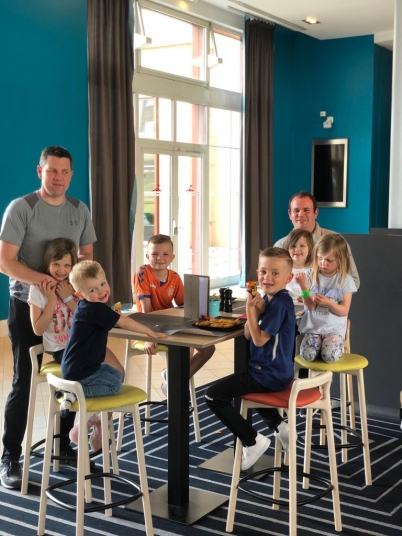 Great times for all and Easyjet didn't pull me up for having more than 1 bag on the plane :>)
However, another damper as soon as we got home ! I got a call from my amazing consultant from the Beatson who gently informed me that I was not a geno/DNA match for the Immunotherapy clinical trial and that the Beatson would not now also consider me for the only other current trial option, PSMA Luticimide. This was not on medical grounds but because I now have the Nephrostomy where radiation leakage in my urine had health and safety considerations !
However, other NHS trusts may not consider this an issue and my consultant is writing to them to try and get them to take me on ( London looking like the favourite if I am lucky ).
We have now been referred to the Ayrshire Hospice for support with pain control ( which is pretty severe at the moment ) and for complimentary therapies and drop in support groups etc to help both Mary and myself at this particularly stressful and difficult period.
I will continue to explore other avenues of 'non standard' treatments and am far from throwing in the towel.
Many things to look forward in the coming weeks including wee Jamie's 1st Communion and some trips over to our caravan in Arran.
As always, I have to thank Marydoll and my amazing family and friends for all their support and positive vibes and a huge thankyou to all the staff at Crosshouse, Ayr and the Beatson who have been total superstars and looked after me so well.
Need to stop now as I am 'all bagged up' and need to go to the loo :>)
Love you All, Big G xxx